Last week I joined the Happy Wives Club's link up and had the chance to share with you why I love my husband. I didn't hesitate when putting together my list – it was actually quite simple – but what really struck me was how much that little list affected the rest of my week.
As the days went by, I found myself looking back at my list and being constantly reminded how much I truly love my husband. This reminder changed the way I acted and reacted to what was going on around me. Rather than getting annoyed and maybe even snapping at my husband after a long day at work and coming home to find that he had left his dishes from the night before on the table, I though about how long his day was and how tired he must have been last night. When I was at my wits end fighting our son to go to bed, my husband came in and rocked him until he fell asleep. And when he took our kids to the Please Touch Museum for the second day in a row at the request of our daughter even though I knew he really wanted to stay home and relax.
When I read this week's post at Happy Wives Club about "keeping their lens clear". Taking the time to think and actually write down the qualities and traits that I love about my husband has helped me show him how much he's loved. I see more of the little things he does, the subtle things and that makes me want to do more for him too. And the more I show him love, the more love I get in return.
I've been looking forward to linking up again this week and continuing my list on why I love my husband.
11. He sometimes holds my hand when we watch TV
12. He has the magic touch when it comes to putting the baby to bed
13. He twirls our daughter around the dining room like a princess
14. He cooks the best food
15. He turns his video games off when I come into the room and put ons something to watch together
16. He always asks what I want to do before making any suggestions of his own
17. He stands up for me
Are you a happy wife? I encourage all of you to take a second or two out of your busy day and write down some that you love about your spouse, whether it's on Facebook, your own blog, in a journal or even a piece of paper. See how taking that time to write it down can change your perspective and see things differently, even if the difference is slight.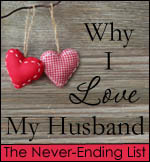 Paola started blogging in 2008 after she found out she was expecting her first child. Now a mother of two, she works full time while trying to keep the balance between home and work life. Her blog has transformed from a simple family update blog to a blog that promotes products and services geared towards family, education, and entertainment.
Latest posts by Paola Deininger (see all)