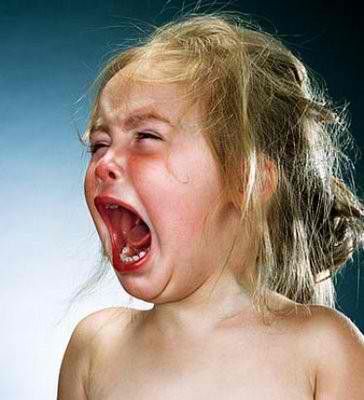 My children are pretty mellow, but like every other child, they have their limits and temper tantrums are inevitable. While on the train into work this morning I came across a mom who was having a "rough" morning. Her child was in no mood to be on the train and was giving her a really hard time. It was a full on throw yourself on the floor, crocodile tears, screaming at the top of your little lungs until mom wants to pull her hair out melt down. I felt sorry for the mom. She had to sit there while just about everyone stared at her and her child.
Unfortunately, this mom lost her nerve and started shouting at the child, berating him and tried restraining him to get him to calm down with no avail. I won't judge because I know I'm guilty of losing my temper from time to time too, but is that really the best way to handle the situation?
I'm no expert by any means but I know what works for me. My daughter is the "drama queen" of the family and has been know to throw a good temper tantrum now and then. Here are some tips of how I deal with temper tantrums and melt downs.
Go down to the child's level – I don't like it when people talk down to me and I'm pretty sure kids don't either. Get down to their level and make eye contact. Don't raise your voice but be stern.
Reward for good behavior – There's nothing wrong with giving a child a small treat if they're able to get themself to calm down on their own. I'm know for using this all the time because it's worked for me. It doesn't have to be something big – 5 extra minutes of TV time, a piece of candy, an extra story at bed time – but reward them for calming down on their own.
Distraction – Try finding something that interests your child and bring their attention to that. My daughter loves books and I'll offer to take her to the book section of the store or I try to always have a book or two in my bag just in case.
Be prepared – As moms this is our #1 motto but it does help to be prepared for a tantrum because they're bound to happen at any moment. I like to keep little things in my bag like lollipops, stickers, books, and even my iPhone to help calm my child down if a temper tantrum strikes.
How do you deal with your child's temper tantrums in public?